Listen to "Unity" Prayer by Dr. Steve Ams (Executive Producer) Cee Jay Crusade Houston International Choir
SENIOR PASTOR – CITY CHURCH
APOSTLE (DR.) STEVE AMS
FOUNDER:
STEVE AMS MINISTRIES, INC.
MESSIAH COMMUNICATIONS NETWORK, INC.
VISIONARY:
CEE JAY CRUSADE | CEE JAY MEDICAL MISSIONS
Team of Cee Jay Crusade volunteers spreading the Good News of Jesus Christ in the midst of crisis to Hurricane Harvey evacuees headed by Rev. Pam Fomunung with City Church & Cee Jay Crusade. Bibles are being distributed along with tracts, Daily Bread pamphlets and most importantly…… ministering salvation, hope, encouragement and prayers at the NRG Center. Houston may have a long road to recovery BUT JESUS IS THE GREAT PROBLEM SOLVER. HE IS THE WAY, THE TRUTH AND THE LIFE (John 14:6). In times like these, people need the LORD.
CEE JAY BACKGROUND & HISTORY
Since its inception on April 8, 2000 at the

George R. Brown Convention Center

, Houston, (with over 300 churches and ministries participating), creating 5,000 jobs in one day. Cee Jay has successfully organized sixteen (16) other medical missions in the city of Houston and abroad. In December of 2003, we took the compassionate love of Christ to the city of Jos, Plateau State, and in March 2010 to the village of Lassa, Borno State in Northern Nigeria, West Africa. It was indeed a Gospel and Medical Explosion!!! Cee Jay has also assisted in various humanitarian efforts and medical missions in several countries around the world, namely; Angola, Burundi, Cameroon, Equatorial Guinea, Guatemala, Haiti,

Nigeria

, Uganda and United States to mention a few.
Cee Jay was the first ministry at the scene in the Astro Arena clinics in Houston during the devastation of Hurricane Katrina, Labor Day weekend 2005. We operated round the clock humanitarian services outreach for Katrina evacuees as they got off the buses and waited for medical attention. Cee Jay also provided doctors during that crucial Labor Day weekend to assist Baylor College of Medicine and Harris County run the various clinics in the Astro Arena.
In furtherance with helping the Greater Houston community, Cee Jay received assistance from the U.S. military in helping to work the clinics with supplies and medical personnel.
Cee Jay Job Fair helped to create 5,000 jobs in one day!!! This happened in partnership with area corporations and multi-national companies. It was not a job fair. Interviews were held on the spot and people were employed on the spot!!!
During Hurricane Ike, in September 2008, Cee Jay followed through with its pre-planned September medical mission, in spite of the fact that most of its volunteers were themselves victims of the hurricane. More than 500 people were treated, blessed with both medications and a 90-day supply (where applicable) along with hygiene kits.
When the Haiti quake hit on January 12, 2010, Cee Jay mobilized an 18-wheeler semi-truck load of medical supplies, personal hygiene kits, underwears, etc. With transportation assistance from Halliburton, these essential items were shipped to the people of Haiti in the immediate aftermath of the quake.
If you have any questions or need more information, please do not hesitate to call Rev. Pam at 713-657-0456 or Pastor Jay at 832-596-9391 .
Casting the

Net * Working

Together
SLIDESHOW: Cee Jay Nigeria
Donated Cee Jay Nigeria Ambulance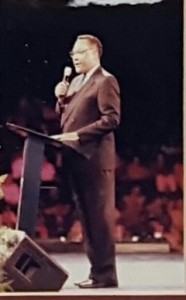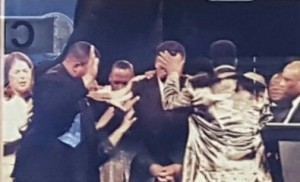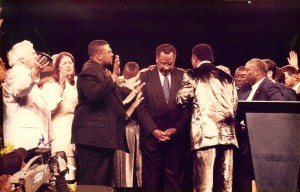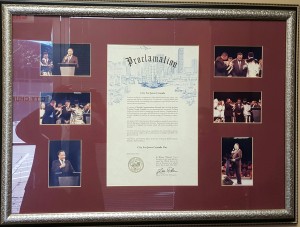 DR. STEVE AMS

brought citywide pastors, ministers, congregations and over 300 major denominational and non denominational churches together in unity, praying for the City of Houston. Some 75 area pastors laid hands on

Former Mayor Lee Brown
following his presentation of Proclamation to City for Jesus Crusade at the George R. Brown
Convention Center in Houston, Texas.